I am not dead but I am divided
– three weeks of living and working turning public space into a common playground
The project "I am not dead but I am divided" was carried out in a gallery space in the very middle of the city of Frankfurt am Main in Germany. All participants lived and worked for the duration of three weeks within the space and therefore were in constant interaction with the public. In order to carry out the project we received several theater funds and were obligated to create a dramatic play in the end of the rehearsals, when nevertheless most of us were more interested in the social process happening and in the reactions of the audience.
Due to our very presence right in the city heart we faced a very strong public feedback, ranging from people visiting us every day and eating and producing with us to others insulting us quite harshly and calling the police.
One of the ways in which we wanted to document this process was a normal Webblog, on which we constantly uploaded photos and videos while still being in the middle of the artistic process. After a while we also started handing out the password to members of the public, who were interested in participating in the project. This led to an alternative way of narration in opposition to the often conventional fashion in which theater treats text and literature, since all the content both in the public space as well as in internet was influenced by various fractions, perceptions and aesthetics. Various people did also take pictures and videos by themselves and published them on their own websites, creating an even more subjective outcome of the project.
This presentation led to further confusion within the audience and us. Interestingly a lot of people could not cope with the idea of a public funded and open process within the city, which obviously had no other aim then create an open platform for communication. All these different experiences culminated in the final performance which was also screened in the internet and highly based on interaction rather than creating a fixed order of events.
Looking back this project was much closer to a postmodern and shared authorship approach than any other performance format we ever took part in. Especially in the connection and interaction between real and virtual events and the possibilities it created.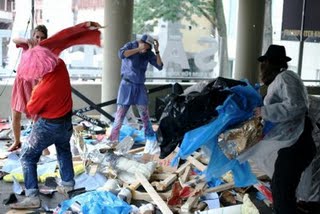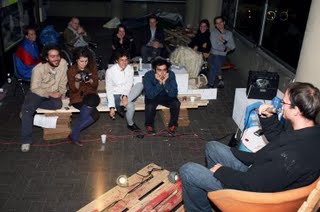 Paul Wiersbinski
was born in 1983 and studies video art at the Filmclass of Mark Leckey in the Städelschule in Frankfurt (Main). In his projects he works with friends and layman and researches on common forms of presentation. The outcome of his process based works have been screened live, as video installations or short films in theaters (e.g. Volksbühne am Rosa-Luxemburg-Platz Berlin / Semperoper Dresden / National Theater Stuttgart), Exhibitions (e.g.. ZKM Karlsruhe / Ludwig Forum Aachen / Neues Museum Weserburg Bremen / Mediations Biennale Poznan / Alma Enterprises London) and Festivals (e.g. Berlinale Berlin / European Media Art Festival, Osnabrück) and received several awards, such as the videoartprize of the filmboard Bremen and a project grand of the Federal Cultural Foundation of Germany. He has recently held lectures in Split, Croatia at Video Vortex 4, within the series Electric Streams at the Kunstmuseum Bonn and at the Villa Vigoni in Como, Italy.
Projekt URL: https://iamnotdeadbutiamdivided.blogspot.com/